Earn as Much as $500-$5000 an Hour…
Talking About a Subject You Love!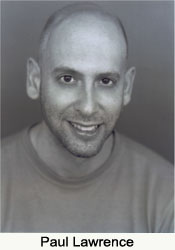 Dear Reader,
I know the above statement sounds so good it may seem like it's be too good to be true.
The only reason I know it isn't is because I've actually done it.  And, I'm going to tell you everything you need to know so you can do the same.
But first, let me start off by introducing myself.
My name is Paul Lawrence.  I never had any formal training as a speaker.  In school, I did a few of the mandatory speeches, but I certainly wasn't on the debate team.
Yet, I have had the pleasure of earning $500 or more per hour speaking about subjects I find interesting.
The Key is Knowing a Subject Well Enough
to Teach Others About It!
I know it sounds hard to believe that you could earn this kind of money speaking to others if you've never done it before.  I can assure you that back about 15 years ago when I used to repossess people's home appliances for $6.27 an hour, I never imagined anyone would want to hear me speak…much less pay for the chance to do so.
But, over the years as I changed my circumstances and started finding success in various fields I gained knowledge that I discovered others were more than willing to pay for.
The speaking field is so wide open that anyone with any kind of business or life experience can earn great money. You don't need a PhD or even a college degree to make money speaking.
One of the most famous and successful speakers of all time was Dale Carnegie.  This is his take on what you need in order to be successful doing public speaking:
The three cardinal rules of public speaking:
Speak about something you have earned the right to talk about
through study or experience.


Be excited about your subject.


Be eager to share your talk with others.


Okay, so now you don't have to just take my word for it.  You've got a
widely acclaimed speaking "expert"  who's telling you that's all you need to be successful speaking,  
You Most Likely Have Knowledge That
Others Will Pay to Hear About.
I want you to take a minute and think seriously about if you have some kind of knowledge that others would be willing to pay to learn about.
Chances are that you do.  For example, if you're an accountant you could teach people how to save money on their taxes.  Or, if you're a real estate agent you could teach people the "insider secrets" of investing in real estate profitably.
But, the subjects aren't limited to just business.  If you're a homemaker that is a whiz in the kitchen, you could possibly speak to people about how to cook delicious meals on a low budget.
If you're good with dogs, then maybe you should offer a seminar to new dog owners on how to train their dogs.  Like I said, there is almost a limitless amount of subjects that you could earn a nice income with, but here's a small sampling:
Recruiting Personnel
Evaluating a Private School for Your Child
Keys to Starting Your Own Small Business
Breaking Into the Music Business
Innovative Exercise Programs
Financial Markets
Getting Out of Debt
Landscaping Your House Without Breaking the Budget
Art of Massage
Secrets to Personal Selling
All About Collecting Art
Yoga
Making a Second Marriage Work
Life Insurance
Basics of Creating Web Sites
And too many more subjects to list here!
There are so many more possible subjects. It's almost certain that from all of your experience and studies you have the knowledge that could be the subject for you to start a profitable business speaking.
You Can Start This Business For Under $50!
The above statement is one of the reasons that I love this business.  How many businesses can you think of where you can get started for almost nothing?
Not too many I'm sure.  And, this becomes even truer when you consider that this is also a business with virtually no limitation to how much money you can make doing it.
But, don't get me wrong.  See, my area of expertise is in small businesses…microbusinesses…if you will.  These are businesses that can be started with almost no capital and can either make you a nice little extra income each month or if really worked could make you wealthy. And, that's what I'm talking about here.
Your Speaking Business Could Be Either
a Side Business For Supplemental Income
or A Full Time $100,000+ Business.
In my case speaking is a supplemental business I use to put some nice extra chunks of change into my pocket.
Perhaps you'd just like to add $500-$1000 a month of extra income into your bank account?
Or maybe you want to work the business a little harder and turn it into a huge wealth building machine?
Either way, since there's almost no risk or capital required to give it a shot, I can't see how anyone interested in making more money wouldn't want to test the waters with this phenomenal business!
Knowing the Insider Secrets Before You Start
Will Make Your Path a Lot Smoother.
Despite the fact that this is an easy business, if you know all of the important insider secrets and strategies before you start out…your money making path will be much smoother and profitable.
So, using my own experiences and interviewing some other people that are highly successful in this field, I've put together an audio course that can provide you with all the information you'll need to get started.
Here's just some of the valuable information in this program:
Finding speaker agencies and bureaus that will book engagements for you
Presenting yourself so that agencies and other businesses will want to book you.
Making your credentials seem highly impressive regardless as to how much professional speaking experience you may have
Getting higher fees when you speak
Double or triple the profit from each speaking engagement
Making back end products quickly and inexpensively
Selling large numbers of back end products
How to have the confidence to command top fees
Who to target to earn the best profits
What to say to the person who can hire you
How to get someone else to make the calls to get you booked
Two ways to get paid without charging a client
How to create and promote your own profitable events
You Won't Have to Study For
Months or Complete A Giant Course
to Begin Earning Your Profits!
To me that's a big plus.  You see all you're going to need to do to get started is listen to an audio CD that is a little less than an hour long.
Think about it.  You could pop it into your car stereo on your way to work and be ready to start the business when you get home that night.
Now, that's a good business.
So, how much would a program be worth to you that could help you start earning $500 an hour?  A program that you could use to either start picking up an $500-$1000 a month in just a few hours….
Or if you wanted to make it a full-time business…a program that could very realistically help you start earning $100,000+.  And, let's remember.  You'll be able to get started doing all of this with under $50 in start-up capital.
I don't think it'd be unfair to say such a program would be a bargain at $249.  But, I don't want to just offer you a bargain.  I want to offer you an opportunity to make this business happen for yourself that is just so good…so insanely reasonable, that there is just no reason not to give it a try.
Therefore, I'm going to offer this program to you at a price that is considerably better than the figure I mentioned above.
But, before I get to that, I want to give you one more piece of information that should make your taking advantage of this offer a "no brainer."
You Will Have Zero Risk!
So, how do I figure that you won't have any risk if you take advantage of the special offer I'm presenting now?
It's quite simple.  I'm going to offer you a 100% Money Back Guarantee.  Like I said, it's simple.  If after receiving the program and giving it a try for a full 30 days, if you aren't absolutely thrilled with the program, you can return it to me and I'll give you a full refund…No questions asked.
I can do this because I know that the program is excellent and that when you receive it and listen to it, you're going to be excited and on your way to beginning a great new profitable business.
Your "How to Make Wheel Barrels Full of Money By Speaking" program is not going to require an investment of $249.  In fact, it won't require an investment of $99.
Begin Your New Business For Only $39!
So, come on.  I mean how can I make this any easier for you?  I'm offering you a chance to change the direction of your life…to potentially vastly increase your income for less money than it takes to go to dinner and a movie.
And, you've got no risk because if you're not completely happy with the program, just send back the CD and I'll return your money.
If you have knowledge and experience you'd like to share with people and get paid for doing so, then this is program for you.
So, order your "How to Make Wheel Barrels Full of Money By Speaking" program today because after this trial offer is offer, I just may raise the price to it's real value.
I hope to be hearing about your new success very soon.
Sincerely,
Paul Lawrence