How to Join My Silent Group Scooping Out Profits From the Stock Market at Will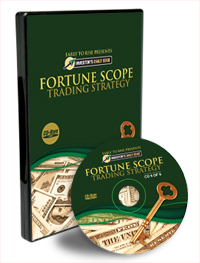 YES, Mitch! I'm ready to join you using the Fortune Scope Trading Strategy to make consistent, easy cash by being able to "scope" out moves in the market just like the insiders do. Please take me along for the ride as one of your select crew. Teach me and mentor me on my screen, so I may retire within a year no matter what the economy does.
My series of Disks that will guide me through the whole process in minute detail and teach me how to:
Outsmart the Wall Street Fat Cats by cashing in on moves in the market before anyone else knows what's happened.
Pocketing quick profits that will usually be in less than 30 days without any previous trading experience whatsoever or any knowledge about stocks and how to trade them.
Gain powerful knowledge that could set me financially FREE...
The Fortune Scope is available for just $395 plus shipping and handling!

Satisfaction Guarantee
100% Guaranteed!! Go ahead and try it out for yourself at my risk! "The Fortune Scope"can quickly be put into practice by watching the easy-to-follow CDs - 30 days is more than sufficient for you to see this is for REAL! So, there's a 30-day trial period which starts when you receive your kit.
If, for ANY reason you wish to return it, send it back in ANY condition, within 30 days of receipt and I will refund you in full. Every cent (less shipping and handling) without any fuss. I shall then simply offer your place to the next person on the waiting list, so it's absolutely no problem for me.

Follow me on a proven path to retirement within a year. Using "The Fortune Scope" - the HIGHLY privileged strategies I learned as a member of the some of the most powerful financial institutions in the world - you could retire within a year after you pull out profits while the outsiders pray to break even. Don't delay!
Final Order
The Fortune Scope Trading Strategy: $395.00
Shipping & Handling: $12.95
Total: $407.95
To order by printing out an order form and mailing it in, click here or to order online right now continue to scroll down this page and click the Accept Order button.
All transactions for the The Fortune Scope Trading Strategy are handled by Authorize.net. All billing, shipping, and payment information will have to be entered on their secure system. To continue with this order, please press the Accept Order button below. Thank you for your interest in the The Fortune Scope Trading Strategy.
After entering payment information you will be directed to a receipt page. Please print this page for your records and simply close the browser to return to our site.
PLEASE NOTE: On the next page where you will enter your billing information, the Card Code field must be entered. Your Card Code is the last three digits on the back of your card on the signature panel, sometimes called the CVC code.
©2021 Master Series Publishing
Paul Lawrence Productions, Inc., 10125 W. Oakland Park Blvd. #336, Ft. Lauderdale, FL 33351